Sussen Self Storage
"Storage has always been outdoors, lacking security and temperature control. Our facility is unique among all other storage facilities."
- Michael Sussen ​
Storage in the Heart of Cleveland!
120,000 sq foot Storage Space
Residential, Commercial, Auto Storage and More
UHaul Services
Friendly Customer Service
(216) 361-1200

Follow us on Facebook

FEATURES

Advanced Security System with 24 Hour Monitoring and Arm Guard Response
Clean, Dry and Secure
U-HAUL Truck and Trailer Rentals
Boxes and Moving Supplies
Palatalized Storage
Fork Lift Services
Car - ATV - Motorcycle
​​See more here
---
News
Sussen Self Storage is expanding!
​We are adding 30 new units with LED lighting and motion detectors.
Prepare for the coming winter & store your summer belongings with us today!
See the progress of the expansion below.
---
Reviews of our Service
"I have nothing but good things to say about Sussen Storage. Mike assisted us on a very last-minute request for a unit. I was there helping my mom move her stuff into storage after she was displaced by repeated burglaries. I was frazzled and Mike helped me relax by assuring me that even if we had to stay later than 5, which is when they close, our stuff would get moved in and that everything was going to be OK. He even offered us water and a place to sit while the movers did their thing. I'm so glad we picked this place. They've got 30+ years of my mom's life in storage and I have faith that her stuff is in good hands. Thank you Sussen Self Storage!" - Nancy K. Cleveland, OH, Yelp.com

"Convenient location to many colleges, clean storage units with air conditioning and protection from elements." - Rosann, Sparefoot.com

"The staff are so nice, kind ,patient , and helpful that they arranged an area for me to work on cleaning my stuff and provide the electricity power for me." - Meng, Sparefoot.com

​"Clean, spacious storage space. The staff is friendly and very accessible. Can also store autos here, and it's very protected and secure. I have used them for 2 years and will continue to do so." - Kevin, Google review
---
Sussen Self Storage is committed to cleanliness, security, accessibility and the satisfaction of all our customers.
​Clevelanders now have a unique way to store and protect their belongings
within minutes of major freeways and all in the heart of the Midtown business district!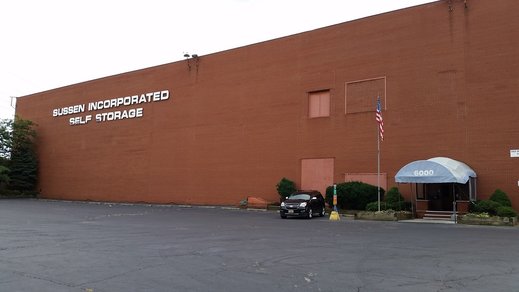 No project is too large or too small!
Call us to discuss your current needs or applications
& we will provide you with the best solutions at the lowest cost.

6000 Carnegie Ave.
Cleveland, OH 44103
9am - 5pm, Mon. - Sat.
(216) 361-1200
---